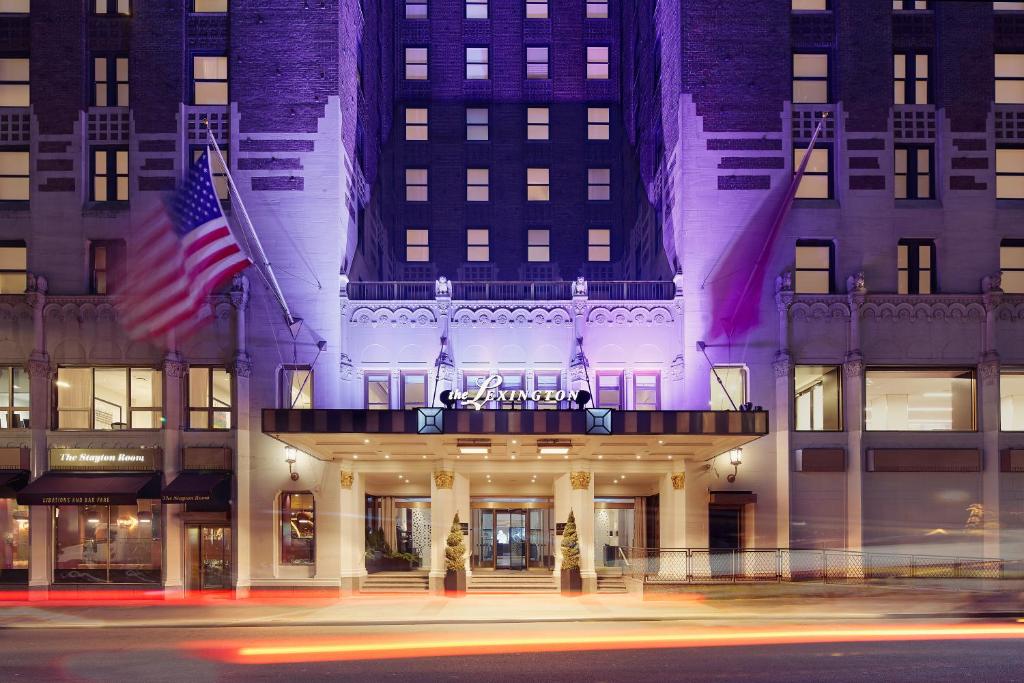 Location
The Astrological Magic™ Conference of 2023 will be held at
The Lexington Hotel, Autograph Collection

511 Lexington Avenue
Entrance at 48th Street New York, NY 10017
Close to countless restaurants and the best shopping in the world
Valet parking
Starbucks in lobby
The Stayton Room for breakfast, and evening cocktails
Fitness Center
Complimentary wireless Internet
Reservations:
To make a reservation, Click Here
$259 per night for a single, $309 per night for a double (plus state and local taxes.)
Cancelling Your Reservation
• You may cancel your reservation for no charge 24 hours before arrival.
Hotel discounted rates are not guaranteed after August 1st. – so don't leave this for the last minute! New York City is a fast-moving place.
Midtown Manhattan's Sophisticated Choice
Built in 1929 and showcasing the design, architecture and style of that iconic period, the Lexington Hotel is rich in history. Once home to Marilyn Monroe and Joe DiMaggio during their brief marriage in the 1950s, it has had many famous guests over the years, including Ella Fitzgerald, Frank Sinatra, Arthur Godfrey and Dorothy Lamour – who was also a resident. The Lexington was also home to the world-famous Hawaiian Room, where guests could experience live hula performances while sipping on cocktails. Today, the hotel has six additional signature suites with their own sumptuous style and unique themes.
Exactly like nothing else, our Midtown East Manhattan hotel offers sophisticated accommodations inspired by the Jazz Era's vibrant creativity and glamour. The energy of our midtown location, the dynamism of the Art Deco building itself, and the star-quality of its guests – past and present – defines it. An exceptional past that comes alive through modern service and amenities and a present that brings forward the elegance and quality of the past. The Lexington Hotel, Autograph Collection is the perfect setting that allows all guests to star in their own exceptional experiences – both on the property and off.
The Stayton Room in New York
The Stayton Room pays homage to former U.S Navy Captain William Stayton, who founded the Association Against the Prohibition Amendment. Established in 1918, it was the first group created to fight Prohibition, and William Stayton was widely recognized as a key leader in the repeal of the 18th Amendment. The Stayton Room embodies the spirit of The Lexington Hotel, which opened amidst the Prohibition era and the Roaring Twenties. The craft cocktail menu is inspired by classic Prohibition era libations with artisanal bar fare featuring locally sourced ingredients.
Breakfast Hours
Monday through Friday: 6:30 AM – 10:30 AM
Saturday & Sunday: 7 AM – 11 AM
Lunch & Dinner
The Stayton Room is not offering lunch and dinner at this time.
Cocktails & Snacks
The Stayton Room opens daily at 4:30 PM and last call is at 11:30 PM.
Starbucks Hours
Monday through Friday: 5 AM – 6 PM
Saturday & Saturday: 7 AM – 3 PM
The single rooms are $279 and the doubles are $309. 
Last Day to Book: Tuesday, August 1, 2023
Contact Us for Any Discussion
info@astrologicalmagic.com
24 hour cancellation policy.